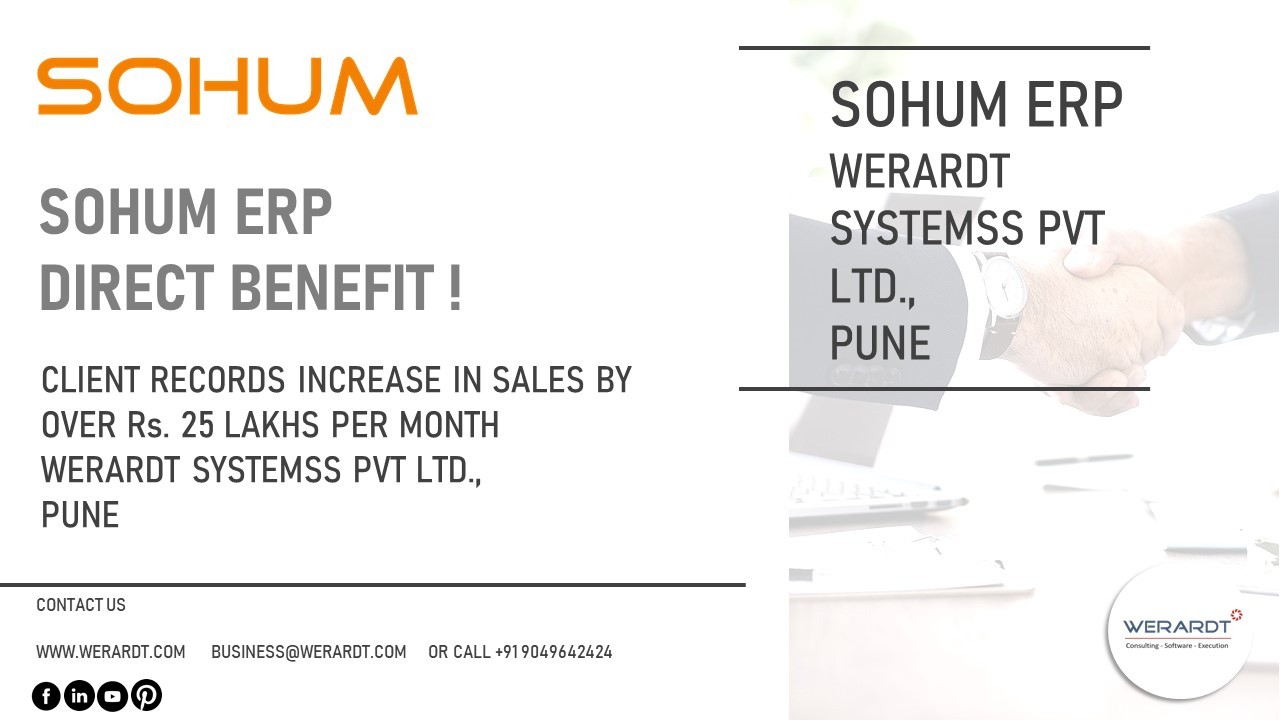 SOHUM ERP Direct Benefit!
Client records increase in their Domestic Sales by over ₹ 25 Lakhs per month.
ERP Solution - A Lifeline to Business : Werardt offers various Solutions & Services to enhance Business performance of our Clients.
SOHUM ERP is one of our mainstream offerings to the SME Segment (Small & Medium Enterprise) and is being actively utilised by a host of our clients. The name SOHUM is derived from a Sanskrit origin, the context of which in the Business sense means, "The Breath of your Organisation".
The implementation focus is on Business Objectives, which for example could be, Increase in Sales, Reduction in delivery delays, Synchronization in Production, and so on.
Here we would like to share some insights into one of our Customers and how they could achieve, through SOHUM, the growth they had planned for in terms of both, Market Reach, Sales and Savings –
• AN INDUSTRIAL PRODUCT MANUFACTURING COMPANY, having about 5000+ variety of products, 150 Dealers and 100+ CNC machines has been using SOHUM for the past 3 years which has helped them increase their Domestic Sales by over ₹ 25 Lakhs per month.
We helped them achieve this in a period of 2 years, which is a commendable performance. Implementation was done in s step-by-step manner covering Inventory planning, Production sequencing, a Webshop for Online Interactions, and so on.
Our experience of 30 years and 200+ implementations helped us to understand the growth area, various process requirements, as well as the approach to achieve the result.
It would definitely be a delight to take such assignments where, we will be able to serve you and provide Value addition in your Business.
For details contact
Ms. Gayatri Wable
gayatri.wable@werardt.com
+91 9049642424
For more details visit our website https://www.werardt.com/page.php?id=2&name=sohum
Connect with us on
Facebook Page
https://www.facebook.com/Werardt
LinkedIn Page https://www.linkedin.com/company/werardt/
YouTube Channel https://www.youtube.com/channel/UC29S2r5pVWTIXIAhP7HDDfw
Pinterest https://in.pinterest.com/WerardtSystemss
Social Wall : https://walls.io/bnk63