Sohum is an ERP Solution for Small & Medium Manufacturing Companies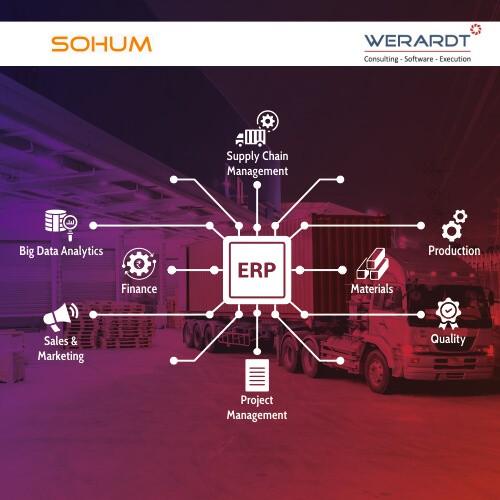 Sohum is an ERP Solution with 100+ installations in Manufacturing Industry. It is an integrated platform of Manufacturing, Sales, Distribution, Supply Chain and Financial applications. Sohum has helped Organizations to optimize costs, improve quality, customer service, and deliver performance.
Sohum is built on an open system architecture that supports a variety of manufacturing organizations, including Repetitive, Batch process, Continuous process, Made-to-order, Made-to-Stock and so on.

You can integrate third-party applications such as Document Management, CAD Software, Storage Systems, Standard Accounting Software.
Sohum Implementation is aligned with Lean concepts to improve your Top line and Bottom Line.

Sohum can be deployed in-house or on a private cloud and/or can be used in your VPN environment. You can use it from any device in a secured environment.
Sohum Features:
SOHUM gives you the flexibility, portability and ease-of-use which is required for manufacturing environments. Some of features are,
Choice of Cloud / Hosted / Hybrid Deployment
Instant access to critical Business information for effective decision making
Automated Alerts and Notifications for operational efficiency, effectiveness and control
End-To-End process integration
Comprehensive validation rules
Role based Dashboards
Design your own MIS reports and Charts in Excel, on the fly
Obtain a strong control over your material movement and stocks
Multi Location and Multi Company configurability
Multi-Currency
Multi-Level expense monitoring
System Administration tools for Access Rights management and control
Configuration management Tool helps in incorporating additional Business Processes that may be required to incorporate newer revenue models