Fault Tree Maintenance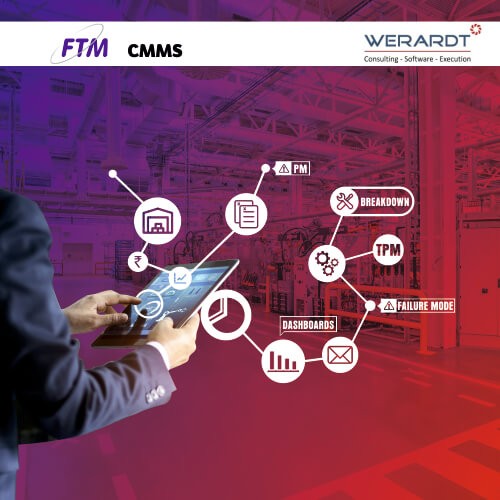 A CMMS (Computerized Maintenance Management Software), a core product offering that helps quick and effective decision making for the Maintenance Departments. Having evolved over the past 20 years through user feedback, FTM has an installation base of over 60+ Installations in India and Abroad. Werardt's emphasis is on efficiency and hence it has a planned Implementation approach to Go-Live within 4 to 6 weeks. FTM's popularity stems from the fact that it is a Pre-Configured system with Ready-to-Use Reports & is Flexible!
A Simple Overview
FTM – Fault Tree Maintenance – is a simple, practical and easy to use software system for the Plant Engineering and Maintenance Departments. It maintains Asset records that cover the entire plant, and maintenance history is captured for every asset (typically machines and equipment) along with all operational documentation.
Records are maintained for Breakdown Maintenance, Preventive Maintenance (PM), Resource management, Failure mode and Causes, Spares consumption, Repairs and Maintenance Inventory. Besides Breakdown and PM it also records Miscellaneous Maintenance jobs performed by the maintenance teams. One of the most important features of FTM is document management.
Pre-Canned Reports
These are Ready-To-Use reports for % Breakdown, MTBF, MTTR, Pareto Analysis, PM Planning Scheduling and Execution, Spares Consumption Analysis, Machine Cost, Manpower Utilization, etc. These wide range of reports cover all aspects of the maintenance department, thus significantly reducing the overheads of Plant Maintenance teams and Managers.

A comprehensive set of KPI's supported by the product is based on our experience in dealing with simple and complex manufacturing plants. These KPIs ensure high level of visibility into the maintenance function, increase its effective functioning and help managers and senior decision makers to make the right budget allocation for this crucial function.