Instrument Calibration Manager

This is a comprehensive solution with the ability to maintain long term, organized, and readily accessible calibration records on all types of instruments and also provide Certificate Printing. Especially tailored for the Pharma Industry, ICM is 21-CFR-Part-11 Compliant.It is just the right kind of solution to your pressing needs.
ICM maintains an instrument database allowing you to add, delete or deactivate an instrument. The ICM instrument database provides a full, interactive instrument list for the whole Plant. ICM manages the scheduling of calibration events for all the instruments entered into the instrument database and records all results, including a record as to whether the instrument passed or failed the calibration.

The key to a successful system will always be the control over various validations that govern the sanctity of the Calibration Certification process. These mainly being,
SOP date Validation
Master Certificate Validation
Schedule date Validation
Validate correctness of entries on set acceptance criteria, and
Calibration Agency Contract Validation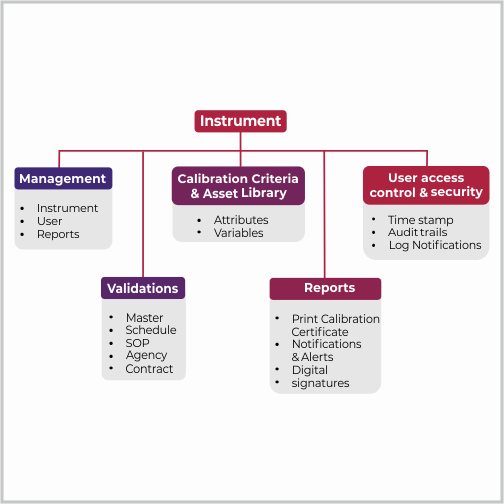 ICM can be used to authenticate calibration procedures through the creation of specific calibration methods. Using ICM for Calibration Procedures:
Ensures the integrity of the data that is entered
Ensures that the calibration procedure is followed as defined
Provides thorough documentation of instrument calibrations
Reduces the cost of documenting calibration results
Helps in standardizing your SOP's related to Calibration
As a calibration management solution, ICM simplifies the documentation, data recording and scheduling activities associated with instrument calibration. ICM can be used as a Paperless System based on your Policies & SOP's.